It seems like "virtual" has become the most ubiquitous adjective of the last year. Virtual learning, virtual conferences, virtual weddings, and even virtual tourism have become common activities. While the virtual trend has definitely accelerated since 2020, more and more of our world has gone virtual since the dawn of the internet. Although there's a huge leap between the first online message boards and chatrooms to today's apps like Twitter, Instagram, and Zoom, the virtual experience has primarily stayed two-dimensional.
Like the word "virtual," three-dimensional virtual spaces are nothing new. I distinctly remember seeing a virtual reality headset at Epcot in Disney World that let you fly on Aladdin's carpet over Agrabah in all its pixelated glory over twenty-five years ago. Anyone who remembers Second Life knows that 3D environments have been used as virtual social spaces for decades now. But vast improvements in software and hardware in virtual reality (VR), augmented reality (AR), and mixed reality (XR) are supercharging the ability to make and experience these virtual worlds today. This technology will only get better, and the importance of virtual spaces will only improve.
Today, I'm highlighting five of the most exciting ways virtual spaces are being implemented, and how that will transform several industries for the future.
Next-Level Branded Experiences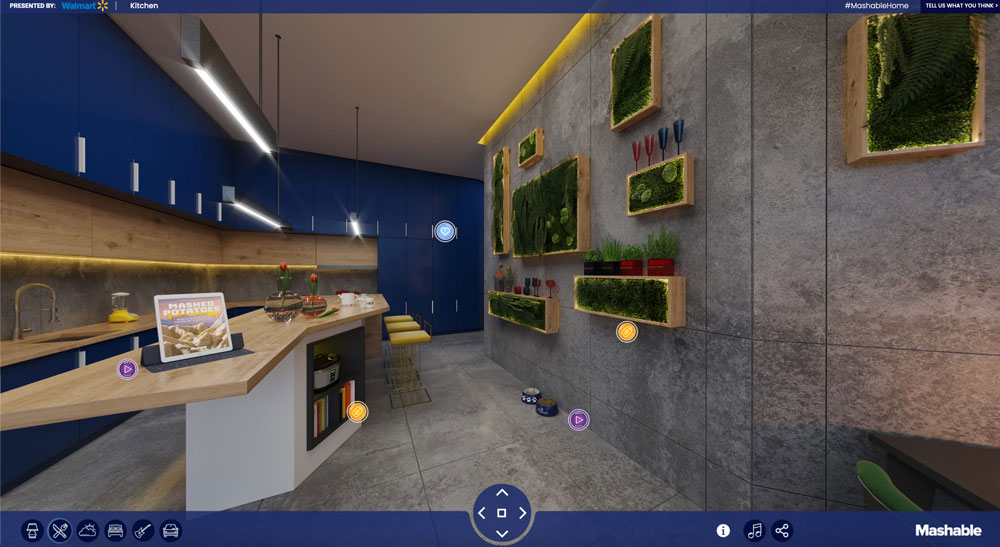 Virtual spaces provide a way for brands to create new forms of engagement and get their message out. With VR, brands can transport their fans and give them a view of something that would either be too expensive or time-consuming to do in real life, or they can create a completely new and memorable experience. Here are a few ways top brands have utilized virtual spaces:
Mashable Home

- In this co-branded virtual space, Mashable and Walmart invite readers to visit a virtual home that offers a brand new way to experience Mashable content. Guests can do a guided meditation in the bedroom, learn how to garden in the backyard, and watch healthy recipes in the kitchen. The home also includes links that let guests purchase items found in the house through Walmart.

Marriott Teleporter

- Marriott worked with VFX shop Framestore to create a virtual reality experience that allowed people to step into a booth and go on a trip around the world. The experience took travelers to a variety of locations including Hawaii and London, and the experience was augmented with 4D effects such as wind, mist, and a motion base. This was an innovative way to encourage people to travel more and associate that desire with the Marriott brand.

ANA Virtual Business Class

-

Japanese airline ANA created a virtual environment that let potential flyers tour their upscale business class cabins in VR.
Virtual Sets That Unlock Cinematic Potential
I love The Mandalorian. I don't know any self-respecting Star Wars fan/massive nerd who doesn't. The flagship Disney+ show provides amazing action, a compelling story, and so many great Grogu gifs.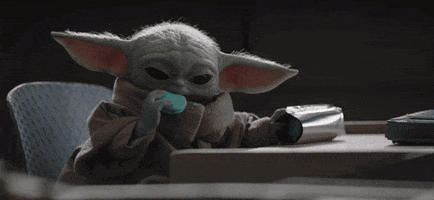 Beyond being a cultural phenomenon, The Mandalorian's biggest impact might be the truly innovative production process utilizing virtual sets. ILM uses technologies like Unreal Engine and StageCraft to create virtual sets, which are rendered and displayed in real-time on giant ultra high definition screens on a soundstage. The virtual sets are synced with the movement of physical cameras, letting the directors and cinematographers create a seamless visual that blends real and virtual elements.
The production implications of this workflow are staggering. It provides the flexibility of green screen, as studios can keep an entire production confined to a soundstage. But this use of virtual environments has huge benefits over green screen, such as realistic lighting and being able to see everything in-camera. Plus, directors can now do a virtual scout from home so they are more prepared for the day of the shoot, saving time. The overall result allows for blockbuster movie visuals without needing a blockbuster movie budget. This is cutting-edge technology now, but like greenscreen before it, it should trickle down to more productions until it is a ubiquitous part of film, TV, and commercial production.
Enhancing the Online and In-Person Shopping Experience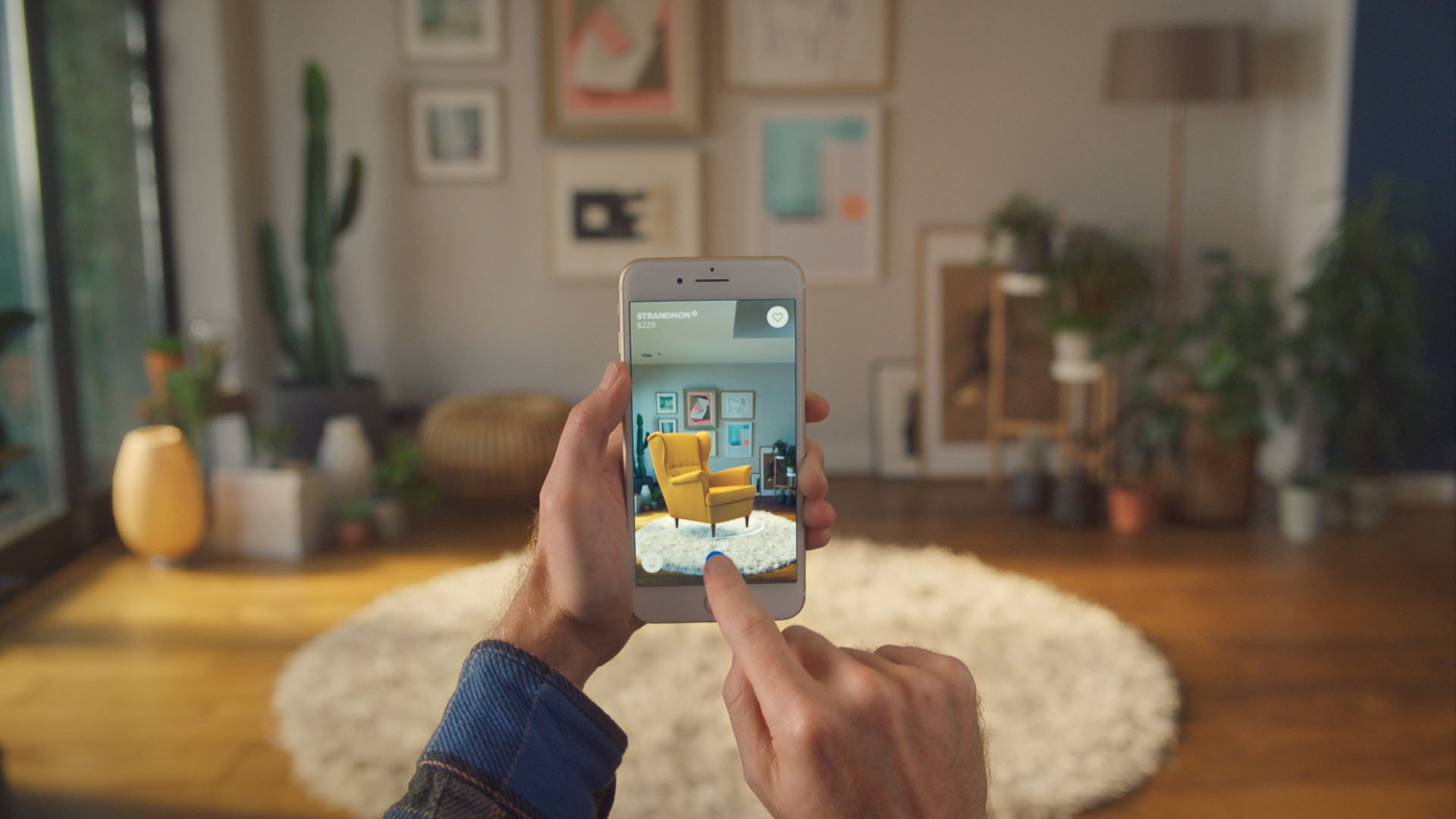 Virtual spaces and 3D objects allow for a more immersive, compelling shopping experience. VR and AR can allow consumers to interact with and try out products in new ways. For example, Ikea has rolled out a virtual reality experience where shoppers can walk through a room and swap out designs in real-time. The company also has an augmented reality app that lets people see what certain pieces of furniture would look like in their own homes.
VR, AR, and XR also open up the possibility of revitalizing traditional physical retail spaces. Virtual spaces can showcase items that are either limited in quantity or impractical to have in a physical store, such as a high-end sports car or an oversized sculpture or piece of art. Macy's rolled out VR as a way to increase consumer confidence in their furniture purchases, which decreased the return rate to less than 2% of customers who had used their VR tool. This technology can help in-person shopping become more of a must-do experience, as the novelty and usefulness of VR, AR, and XR might give the consumer the motivation to visit a physical store.
Putting on a Concert for a Massive Audience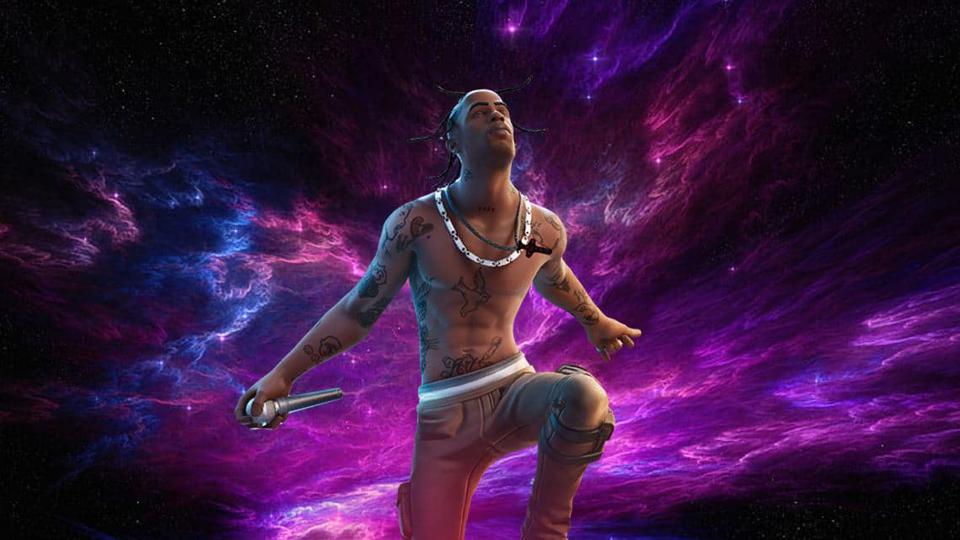 Credit: Epic Games
Virtual concerts went to a new level last year with Travis Scott's concert in Fortnite and Lil Nas X's performance in Roblox. By using extremely popular video game platforms as their performance venues, Travis Scott and Lil Nas X leveraged existing virtual spaces to reach a combined audience of 78.8 million viewers. Not only were these concerts a creative way to get around pandemic restrictions, but they exposed the artists to a massive new demographic. According to Forbes, Scott's gained over 1 million followers on social media immediately after his Fortnite performance. Virtual concerts offer a huge potential for increasing an artist's reach, providing the audience with a fun experience from their home, as well as giving performers a new creative outlet to present their music in entirely new ways.
New Ways to Work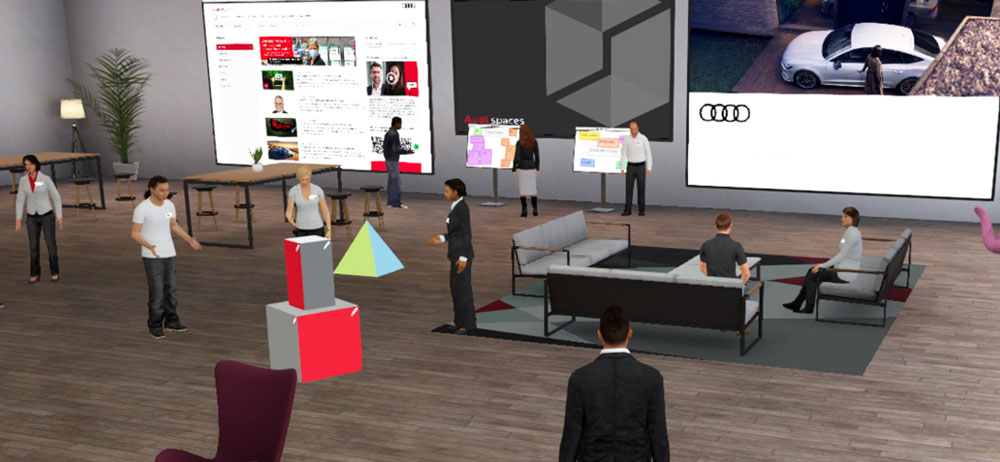 Credit: Audi
Like many companies, Elevation was forced to go fully remote during the pandemic, and we currently operate in a hybrid in-person/virtual model. Our team has implemented a lot of strategies to successfully create and produce content remotely, relying heavily on Slack, Zoom, and the old-fashioned phone. However, going remote meant giving up some of the spontaneous social interaction that being in an office together provides. Some companies are trying to solve this problem with virtual offices, like the one Audi created for their team. By implementing meetings, training, and even water cooler-esque chats through their virtual "Audi spaces," Audi is promoting a sense of camaraderie and deeper interaction than Zoom offers. Virtual office spaces can be an intriguing option for companies with many employees spread around the globe.
The importance of virtual spaces is growing rapidly, and the potential for companies to shape the future with them is seemingly limitless.