How we helped ABC and Toyota adjust their plans on the fly and say goodbye to Modern Family.
As
Modern Family
approached its series finale, ABC and Toyota wanted to give a nostalgic send-off and thank you to all the fans who shared the journey over 11 seasons. The original concept, which called for a live action shoot, was moving full steam ahead until the coronavirus pandemic turned the entire world upside down. Guidelines for social distancing made it impossible to pull off a shoot that could tell ABC and Toyota's story.
The spot had to be completely reimagined, but the deadline remained the same: Two weeks until the Modern Family finale.
That's when we came in! With only fourteen days to pull off a fully animated, :30 spot, our team hit the ground running working from their home offices. We've been posting our ideas on what to do if your live action production has been cancelled because we immediately faced this scenario in a trial by fire. Today, we're sharing the unique challenges that tackling a project of this scale remotely presented and sharing the tools we relied on to deliver a spot for national broadcast.
Modern Family, Modern Challenges, and Modern Solutions
The spot presented several challenges, as we needed to make sure every detail was just right. Previously, ABC/Modern Family had produced a sample of Key Art with a vector-style, 2D look. This became our jumping off point for design, though the spot eventually evolved in a more detailed mix of 3D and flat, 2D shading.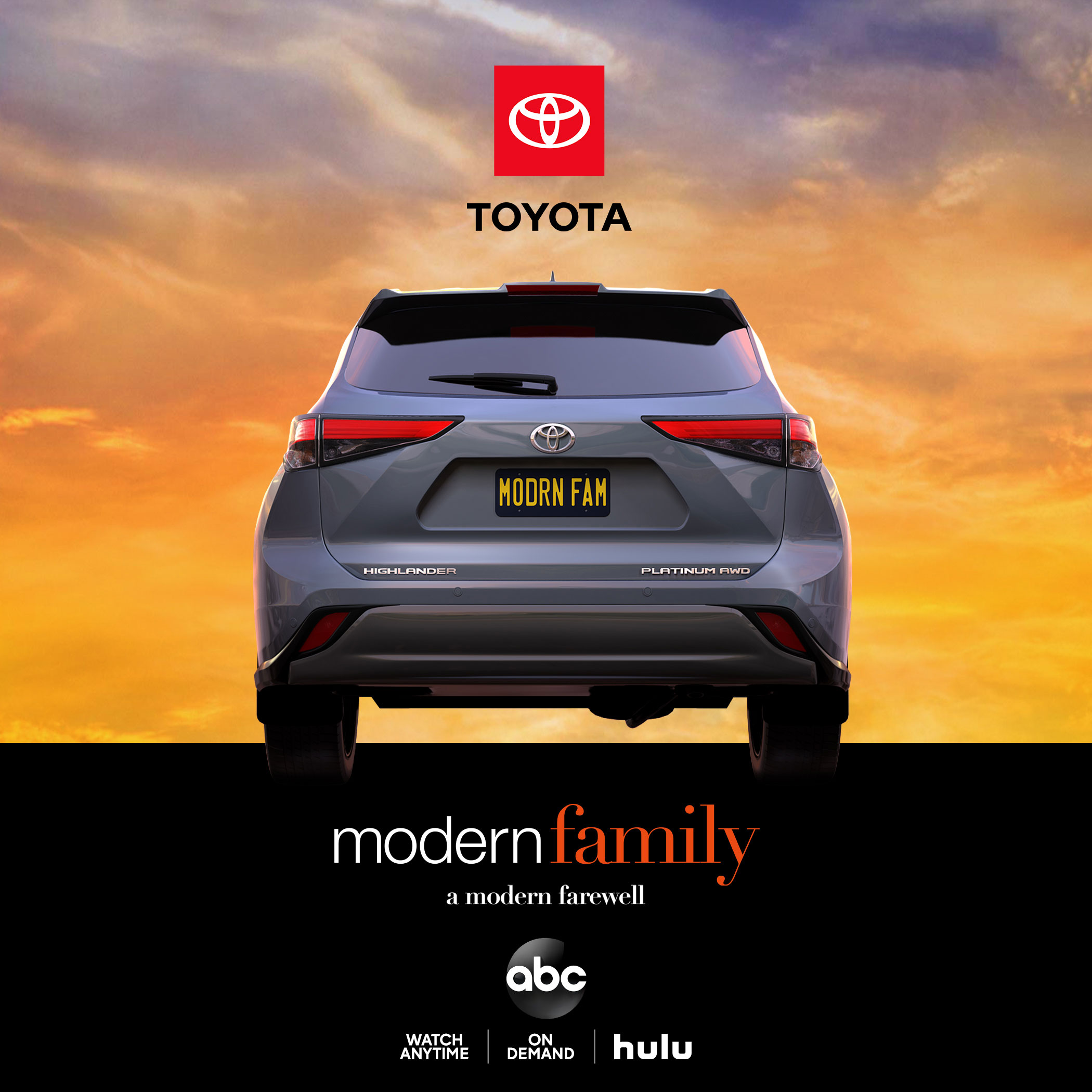 We had to make sure that the car looked photo-real, with features from window tinting to specific paint color 100% accurate and the reflections and lighting on point. "Easter Eggs" from the show had to be peppered throughout and easy to catch for fans who had been there for all of it. These included: The Model Airplane, the Prius license plate and "Just Married" decorations, the sprinkler scene, the jogger, the Slow Down sign, the Old Lady on the scooter.
Some challenges called for creative thinking, due to the circumstances of social distancing. The well-known houses in the show had to be custom modeled and instantly recognizable. Details like the ivy on Mitch and Cam's house, the neighbor's houses, etc. all had to match.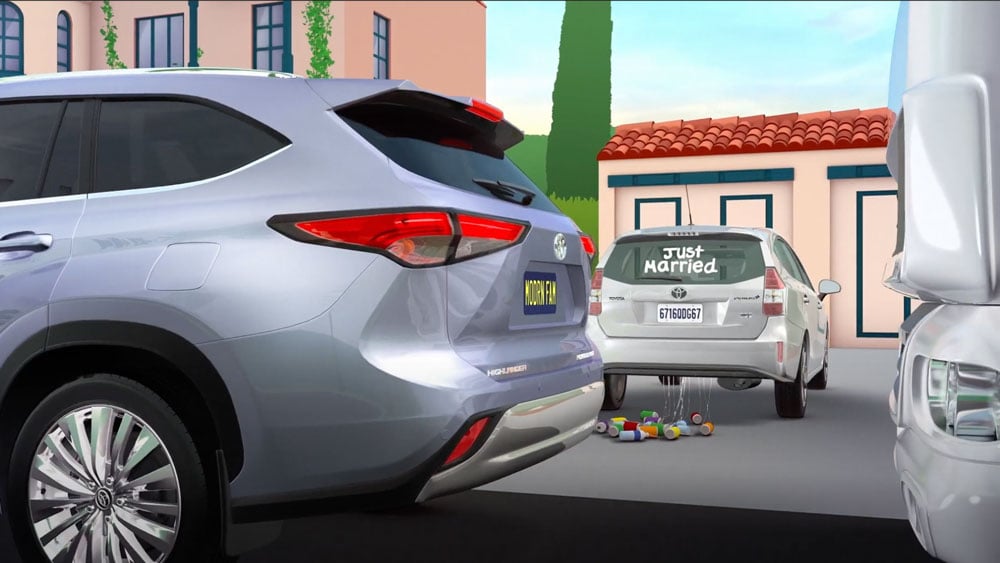 With travel and scouting not a possibility for so many reasons, our team turned to Google Street view. A lot. Audio sweetening was also a factor, as Ty couldn't go to a studio. He ended up using his phone in his closet to record his VO. It was important that we were able to adjust the audio so no one could ever tell and sprinkle in some atmospherics and a nostalgic tune to tie it all together.
The Tools We Needed to Produce a :30 Spot Remotely
Dropbox: With such a time crunch, it's vital to use a tool that removes any friction when sharing files with a client. Reliable syncing and easy sharing make Dropbox a great tool for quick-turn review files.
A Rock Solid Server: Times like these make you very appreciative of your server. With a team of 6 artists and animators working on the project simultaneously from remote locations, our server made it possible to keep all the latest working files up to date and sharable across the team. Our server was crucial in allowing us to keep our workflow flowing as we shifted to working from home.
An Offsite Render Farm: 3D animation requires some serious horsepower. Every scene in the spot needed heavy render times, so we judiciously used an offsite render farm to ensure we could accomplish everything remotely and on time.
Slack: Slack is our office messenger of choice when our team can all be in the same building at once, so we've quadrupled down on our Slack usage during the pandemic. Communication is key in keeping a production on track - especially as you barrel toward a deadline.
A Happy Ending
The final delivery included on-air, digital and re-formatted social spots as well as still key art. We were thrilled and honored to be able to help ABC and Toyota when they needed to pivot their plan and generate some buzz in the press.
As Phil Dunphy once said, "Success is 1% inspiration, 98% perspiration, and 2% attention to detail."
Read more brand promotion stories and techniques here.