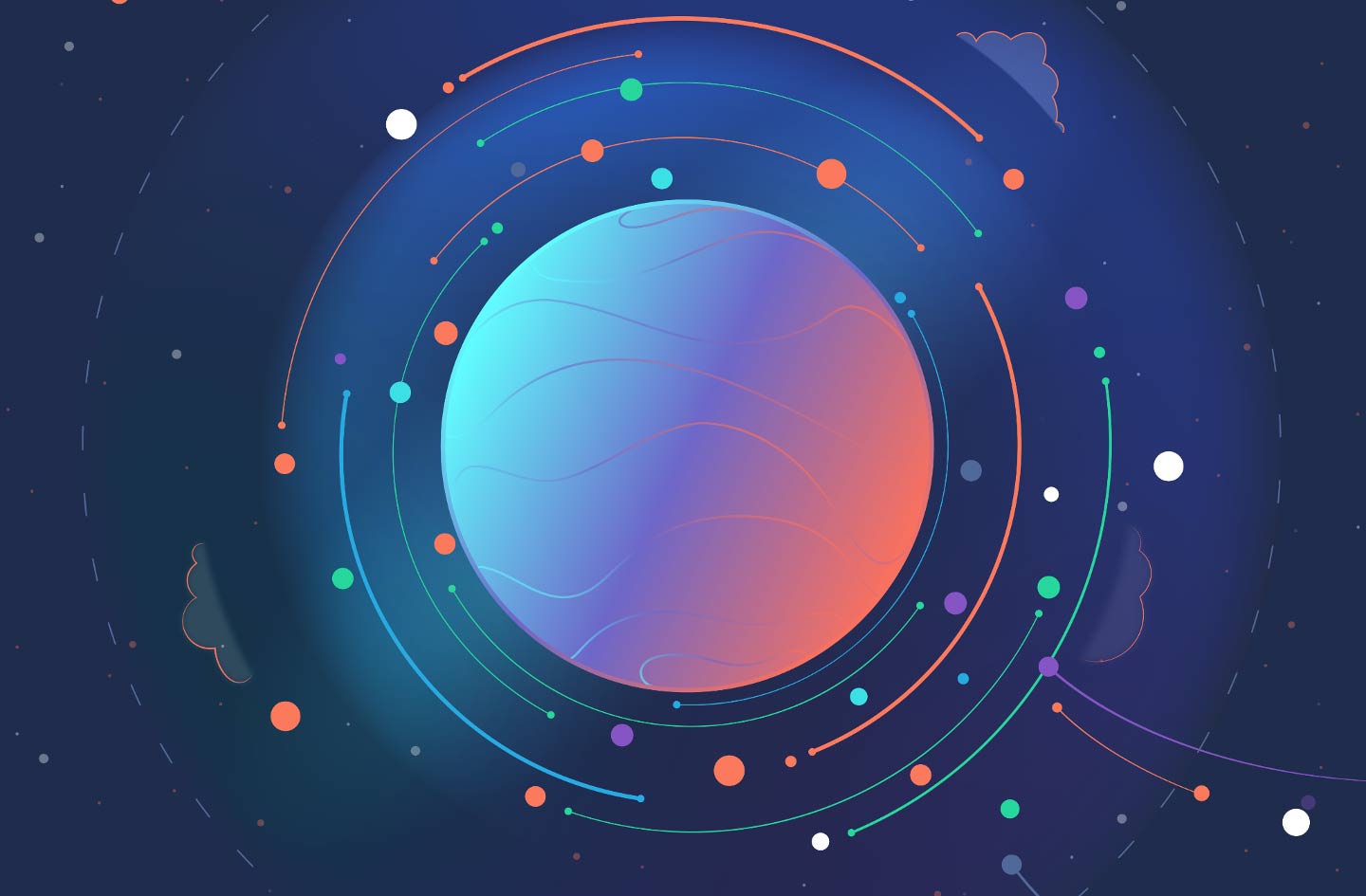 Brand Orbit Through Strategic Content | Elevation's Guide to Brand Building Part 3
Do you know what really takes branding to the next level? An engaged audience.
Get ready to blast your brand past the atmosphere and into space. We hope you packed an oxygen tank, because we're launching into the realm of Brand Orbits.
(But not the brand, Orbitz — sorry to all those fans of online travel booking that mistakenly found this article.)
Building an engaged audience is the most surefire way to supercharge your brand. People who not only follow you, but interact with you, share your message, and buy into your mission. We call this Brand Orbit.
But how do you create a gravitational pull that will attract super fans, brand ambassadors, and avid advocates? How can you inspire them to not only stay near, but to also take action?
Through the right content, marketing, and activations.
In this part of Elevation's Guide to Brand Building, we're covering the importance of these audience touch points, as well as sharing insights on how you can up your content strategy game.
With these insights, your time in orbit will be more like John Glenn and less like Sandra Bullock in Gravity.
Let's get started.
The power of Brand Orbit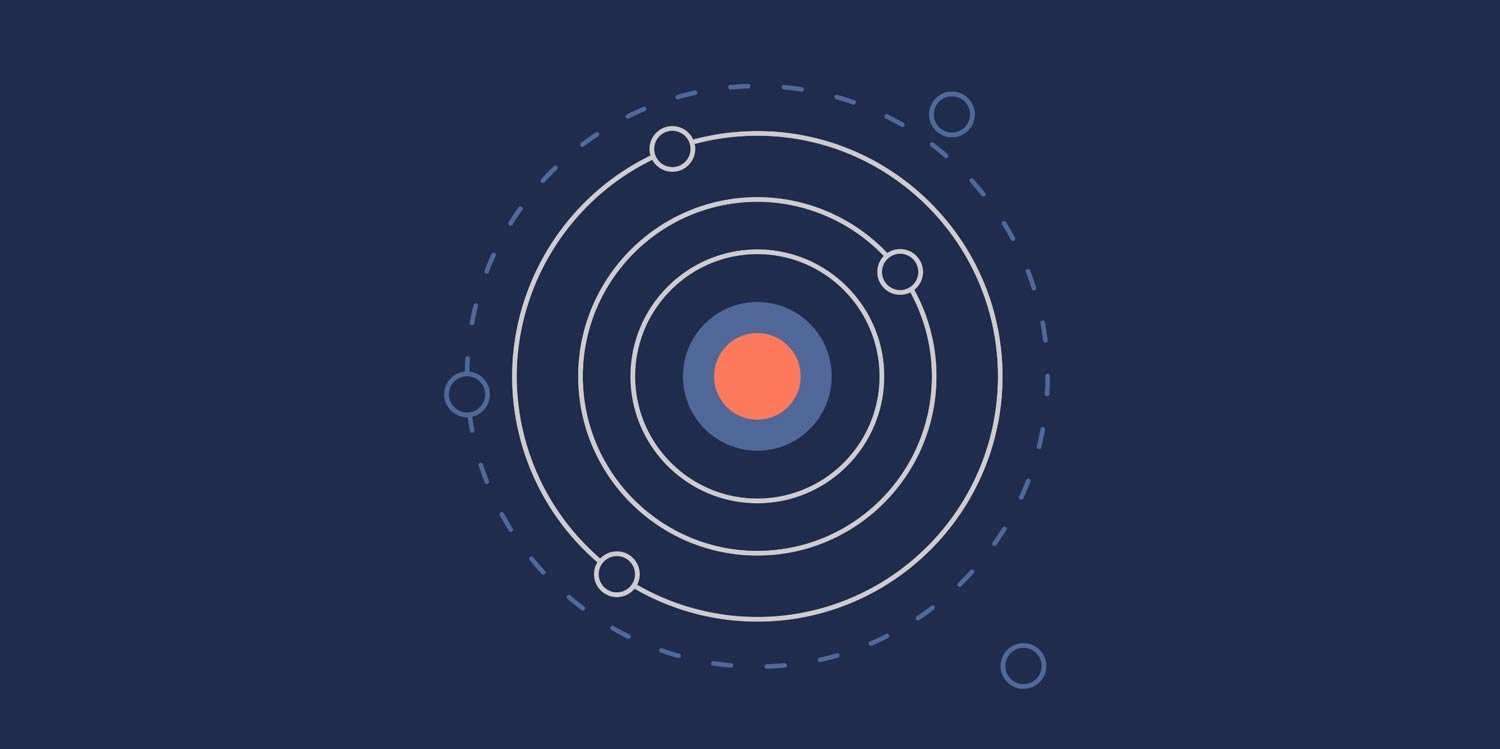 Previously in our Guide to Brand Building, we covered the importance of Brand Core (Mission, Values, Purpose) and Brand Atmosphere (Visual and Verbal Identity). But taking care of those alone is not enough.
Your brand planet could have the strongest core and the most inviting atmosphere. Without a compelling Brand Orbit, it will feel a bit barren.
Brand Orbit is the difference between your brand being a hidden gem and the next big thing.
The success of a brand can be defined by the tendency of orbiters to stay near. A successful brand captures and retains the attention and the imagination of its target audience. This ultimately leads to a community of loyal supporters.
Great brands go beyond just selling a product or a service. They connect with us and inspire us. They provide us with organic, authentic experiences that we just have to share.
This sharing, whether it's through word-of-mouth or social media, can help to create a ripple effect that expands the brand's reach and influence.
That makes your brand's gravitational pull even stronger.
The elements to create a strong Brand Orbit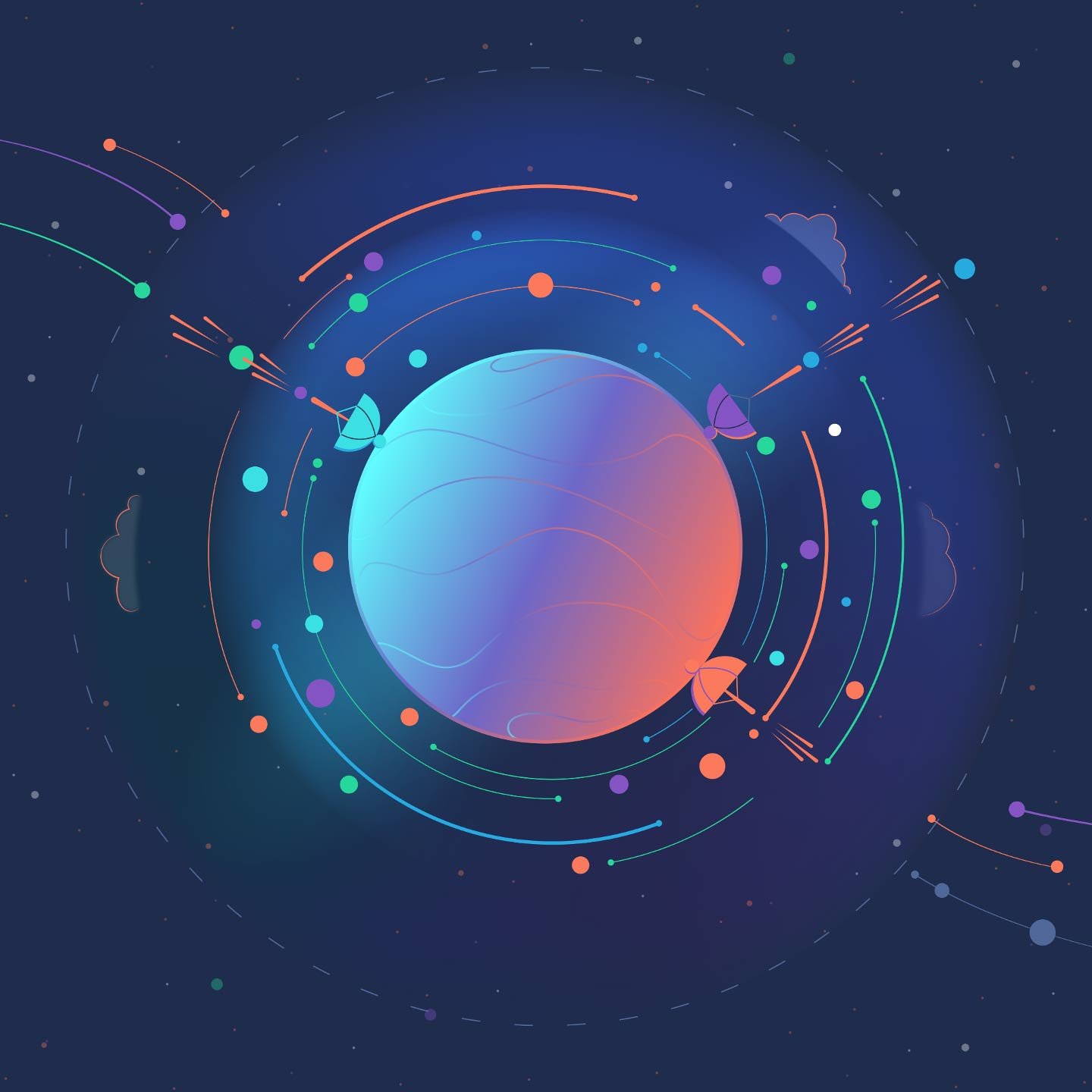 Brand Orbit is comprised of various touch points, channels, and mediums that a brand can use to connect with its audience. These can inspire, educate, influence, and — hopefully — resonate.
Content
Branded Content: Content designed to promote a brand's products or services, while also providing value to the target audience. Branded content can take many forms, including blog posts, videos, audio, social media, integrated marketing, and infographics, among others.
Advertising/Marketing: Advertising is paid promotion of a brand's products or services, typically through media channels like television, print, or digital/social. Marketing can also encompass a wider range of activities, such as market research, SEO, product development, and branding strategy.
Social Media: That thing you are constantly checking on your phone is also great for your brand! Online platforms allow brands to interact with their target audience in real-time, creating a great way to build a community around the brand. This includes platforms like Facebook, Instagram, LinkedIn, TikTok and others.
Educational Content: Let me teach you about one of the best ways to give value to an audience: educational content. As the saying goes: "Give someone a fish, and they eat for a day. Teach someone to fish, and they'll subscribe to your newsletter!" This content will inform and enlighten your audience on topics related to your brand's products or services. Educational content can be presented as blog posts, webinars, how-to guides, online courses, video explainers, white papers, and more.
Communications: Including public relations, investor relations, internal messaging, and customer support, this covers the channels through which a brand communicates with its employees and the general public at large. Communications can help to build trust and credibility by providing timely, accurate information.
Thought Leadership: Position yourself as an authority in your field. How? Demonstrate your expertise through blog posts, podcast appearances, public speaking engagements, and other platforms where you can showcase your knowledge.
Events
Virtual Events: Online events are fantastic, because they allow your brand to engage with your audience from anywhere in the world. Virtual events can include webinars, virtual conferences, live streams, and other interactive experiences. We have more information on creating virtual events, hybrid events, and even events in the Metaverseon the Elevation Blog.
Trade Shows: While virtual events have plenty of benefits, sometimes it's great to get a group of dedicated individuals under one roof. Trade Shows can create connections within an industry or niche, or they can be used by one brand to connect with their users and advocates, such as INBOUND by HubSpot or Apple's WWDC. Either way, in person events are a great way to build relationships, stay up-to-date on industry trends, and even generate leads. Plus, with the right strategy, events can be a great source for content.
Customized Interactions: Also known as Brand Activations, customized interactions provide a unique way for your audience to engage with your brand. From mixed reality installations, immersive exhibits, interactive games, live performances, pop-up shops, and more, these can be some of the most creative and impactful expressions of your brand. You can read more about creating big brand moments here.


Consistency is key
With so many different ways to interact with an audience, don't lose focus of all of the hard work you put into building your Brand Core in part 1 and your Brand Atmosphere in part 2. These will be essential for creating an effective content strategy.
The core, atmosphere, and orbit all live in balance with each other. Just as an atmosphere with the wrong elements would make a planet with a good core uninhabitable, a brand orbit that is overloaded with junk could hide an amazing planet underneath. Staying true, authentic, and consistent to your brand's core across all interactions is key to not polluting the atmosphere.
So make sure that every single piece of content and activation feels like an authentic expression of your brand's core. And also make sure it fits your brand's verbal and visual identity.
Consistency also refers to how often you put out content.
A steady stream of compelling content and audience interaction touch points will strengthen the pull and maintain orbit. Sporadic and unpredictable content can make it feel like your brand is exactly that: sporadic and unpredictable.
There may be seasons where you put out more content than others, like in the ramp up to an event or a product launch. But make sure you find ways to be consistently in the line of sight of your orbiters to keep that connection strong.
Rethink content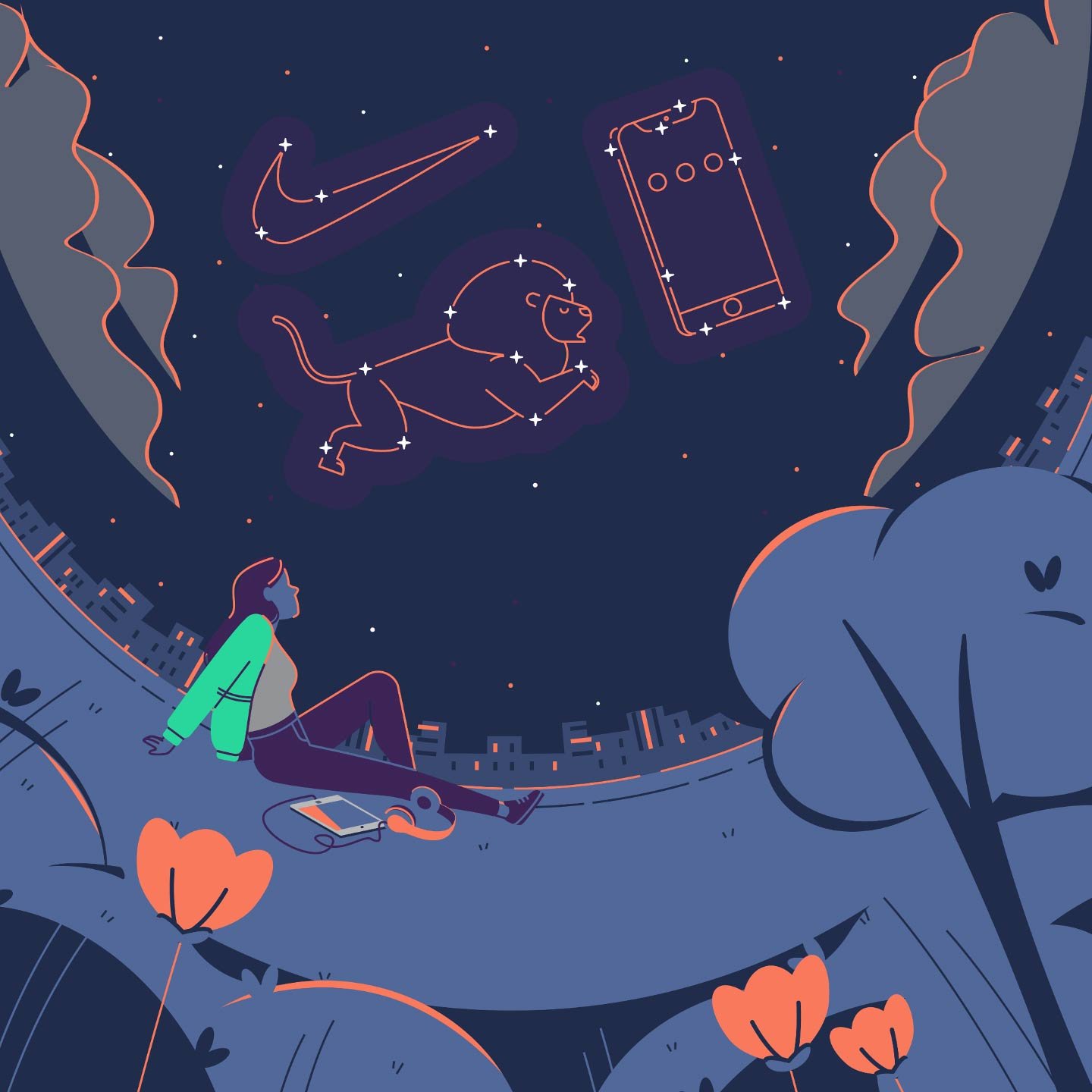 Here's a different way to think about all the different elements that make up Brand Orbit: You aren't just pushing out content. You are attracting orbiters.
It's not enough to be seen and heard. You want to be watched and listened to. A strong brand not only draws its audience in, but it engages with them. It creates interactions that are compelling, anticipation building, thought provoking, or mood shifting.
But you also want to put your energy into attracting the right orbiters. Less "I need to reach the biggest audience possible" and more "I want to reach the right audience." It's much more valuable to attract the type of people who are going to think your planet is awesome.
So focus on creating impactful content that is tailored to someone who really gets you. Someone with who your mission, your values, your voice, and your aesthetic will resonate.
Of course, you want to reach as many orbiters as possible, but you need to do it through authenticity. Focusing on the right audience first will help you do that
This all goes back to the brand's core and its ability to communicate authentically, honestly, and with a point of view.
Make your brand multi-platform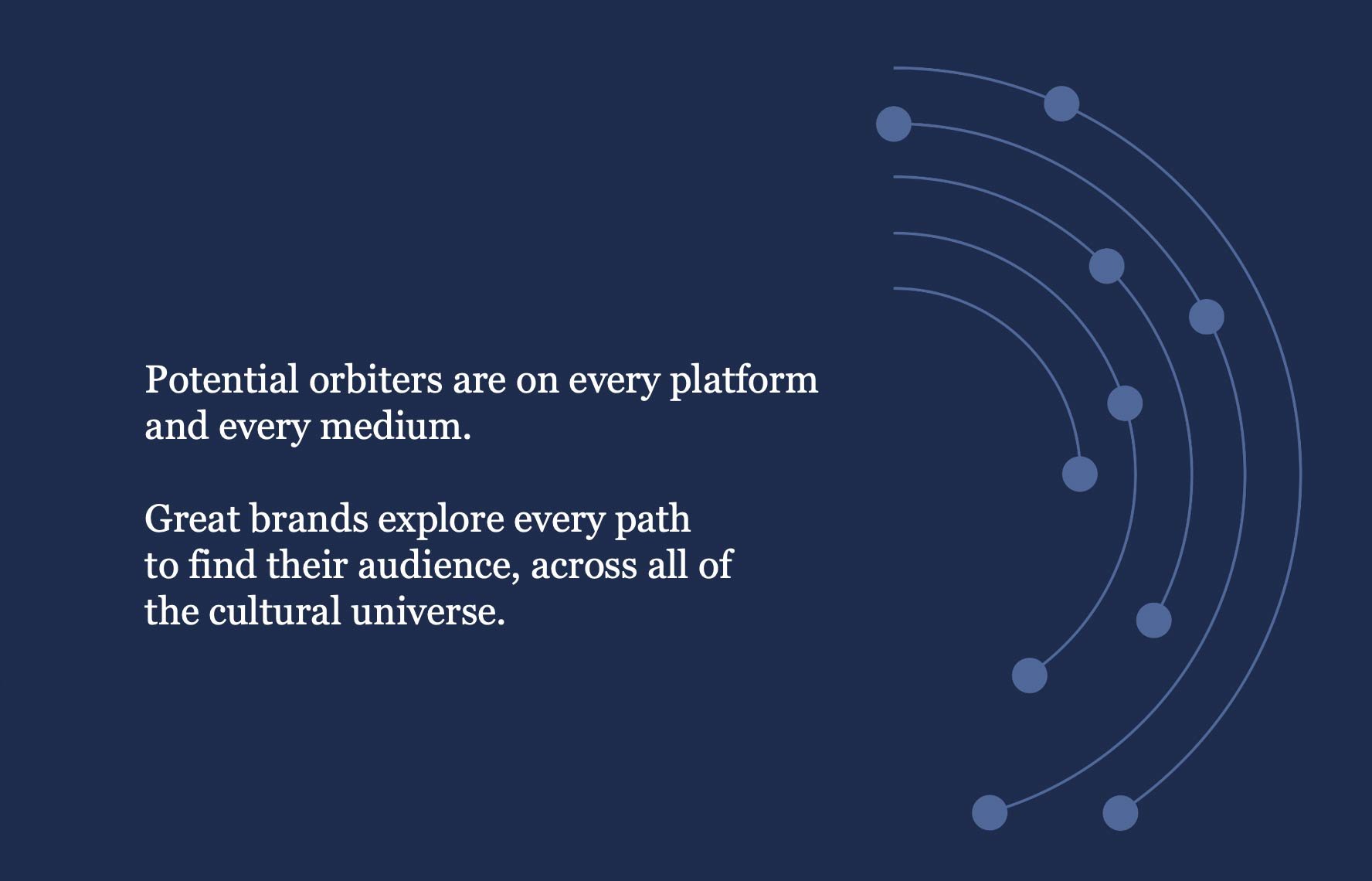 Potential orbiters are on every platform and every medium. To build a compelling orbit, brands must be multi-platform. They must be large and small, able to meet viral success as well as share in intimate moments.
Great brands explore each possible path to find their audience, across all of the cultural universe. Not all platforms are right for every brand, but the right platforms for the desired audience should be explored.
You might know DuoLingo for being an app that helps you learn some conversational Spanish before your next trip abroad. What you might not know is that they have a massive TikTok account that has been appropriately described as unhinged.
You might not think an Owl doing whatever this is would be promoting an "educational app."
But that's what makes it brilliant. They are creating content that feels like TikTok. This helps them truly connect with millions of young orbiters who will turn to their app when they need to brush up for the next quiz in French 2. They're showing that learning is fun, playful, and relevant to them. Content like this has also earned them over 6 million followers and 120 million likes.
So, be like DuoLingo. No, we don't mean go out and buy a giant Owl suit (unless that's what your heart desires). Find new, original, and creative ways to use the right platforms to reach as many orbiters as possible.
Let's look at how some other brands are successfully creating a strong Brand Orbit.
Case Study: Wendy's Social
"We like our tweets the same way we like to make our hamburgers: better than anyone expects from a fast food joint."
Wendy's is in the business of selling hamburgers. But, their target audience is younger, technically savvy, and as hungry for the internet as it is for food. So, they've pulled in over 3 million orbiters on Twitter with a voice that's witty, snarky, and completely responsive to their message happy audience.
But it doesn't stop there. Wendy's streams gameplay videos to over 100K Twitch ****fans, and they even "hacked" a game of Fortnite just to destroy burger freezers, and generate tons of buzz, because "Wendy's doesn't do frozen beef."
Case Study: Canva - Design School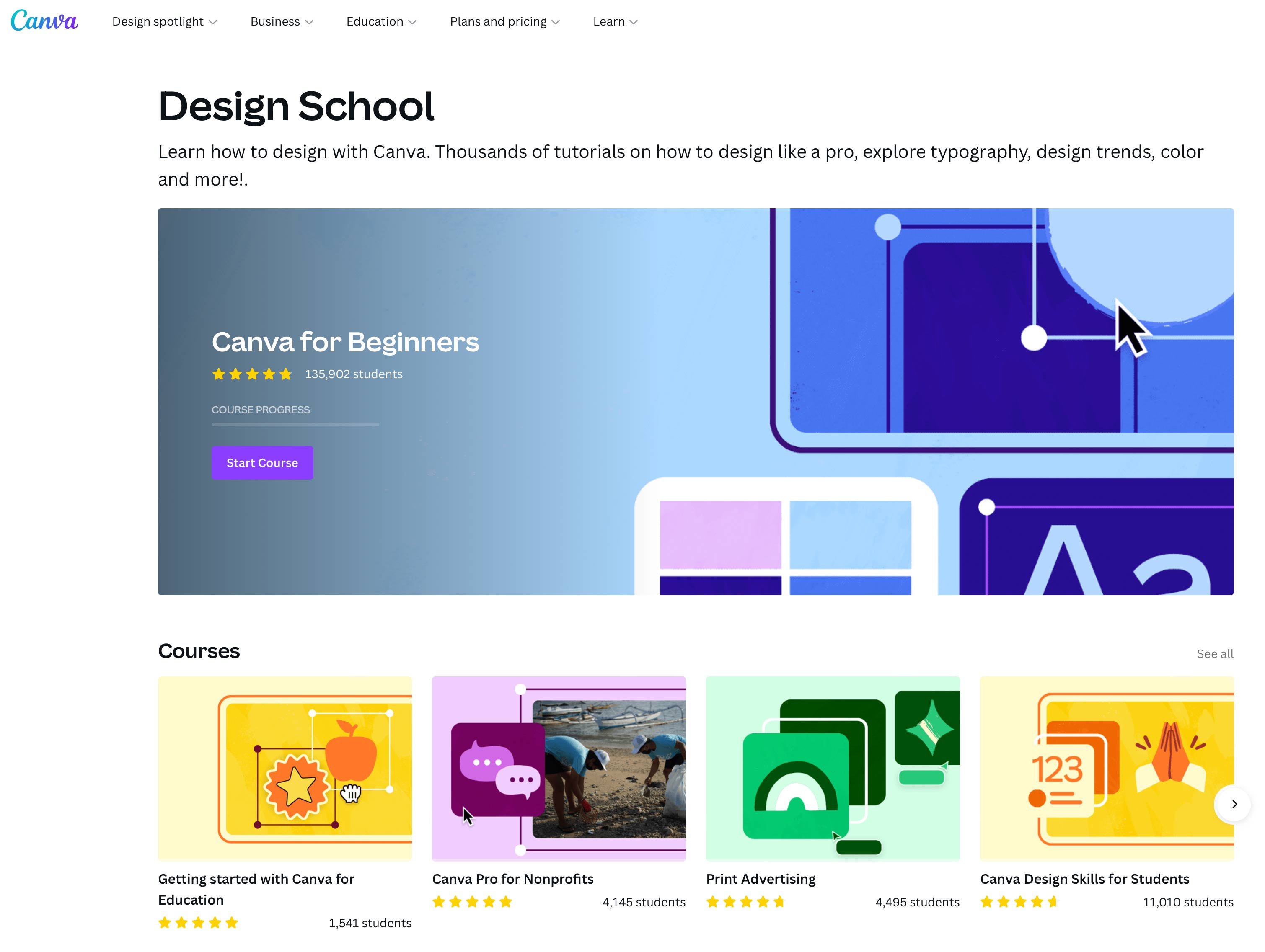 With premade templates and a straightforward interface, Canva is known for being a beginner-friendly design tool. Canva's Design School is an excellent example of the power of educational content.
By offering thousands of tutorials on how to design with their platform, Canva provides a valuable resource that not only gets artists more familiar with their tools, but it also makes them better designers.
This is a powerful hook for two reasons.
This makes designers more inclined to stick with a platform that they have become experts in using. Since Canva has a subscription-based business model, this translates into more repeat customers.
2)It also makes the designs that they create with Canva look even better. With better looking designs, Canva users are more likely to share just how they created them.
That's one heck of a gravitational pull.
Case Study: Spotify Wrapped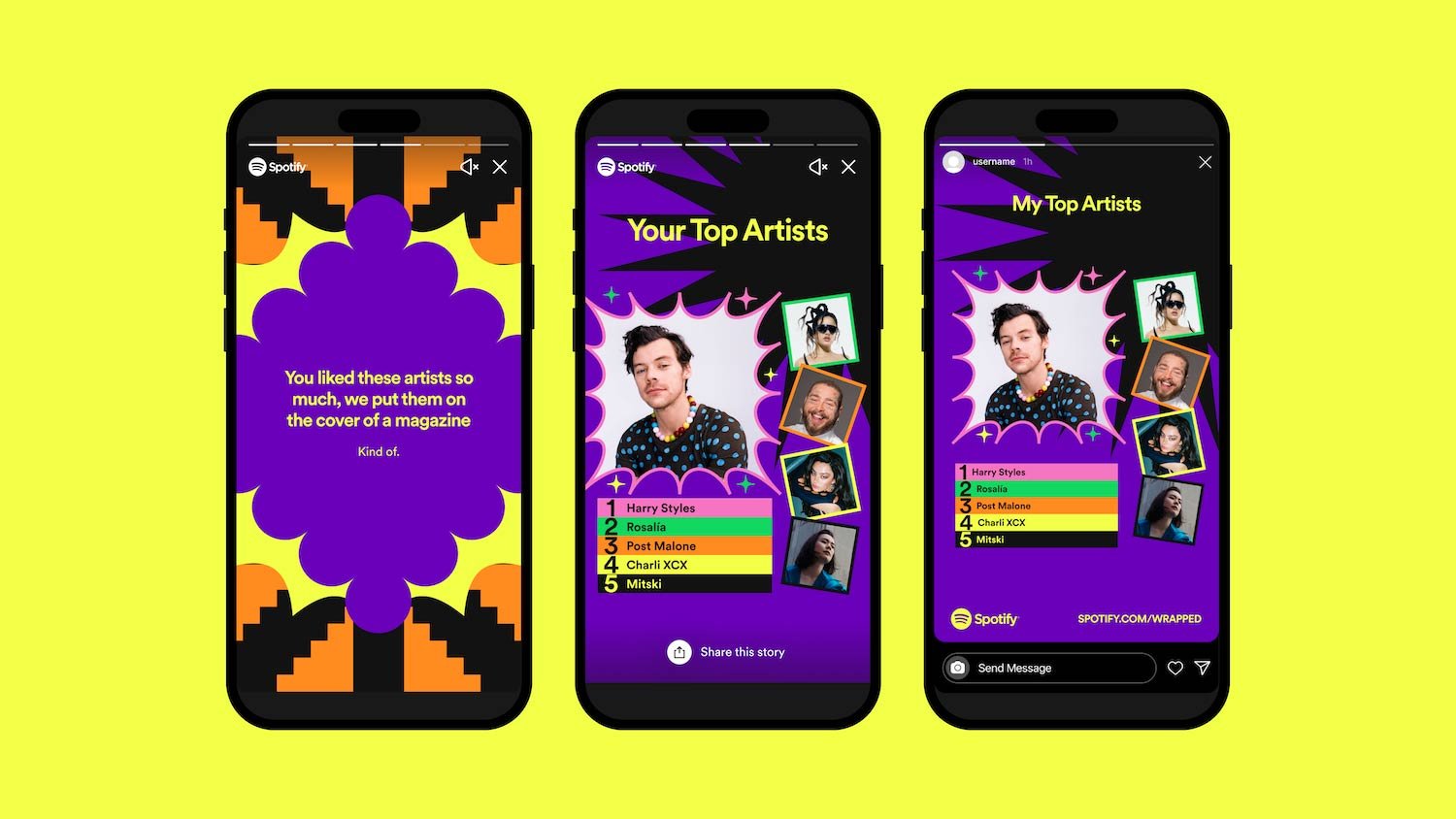 Chances are at the end of each year, you see countless posts across social media with people sharing their year in music. You can discover how many hours your boss listened to Dua Lipa or where you rank among all the Swifties out there. For parents of toddlers, you can see just hot thoroughly Cocomelon dominated your eardrums.
Spotify Wrapped is one of the most ingenious bits of branding we've seen. It's content that people love to engage with, because it's about them. It reminds Spotify users of the experience that they've had with the app. It's also a social game, where one person sharing their music recap inspires their friends to share.
Ultimately, it's a reward for using Spotify, which fosters a strong sense of brand loyalty.
By providing personalized and easily-shareable content that's about the relationship between the brand and the individual, Spotify Wrapped has gone from a trend to a tradition.
Orbit Exercise: Touchpoints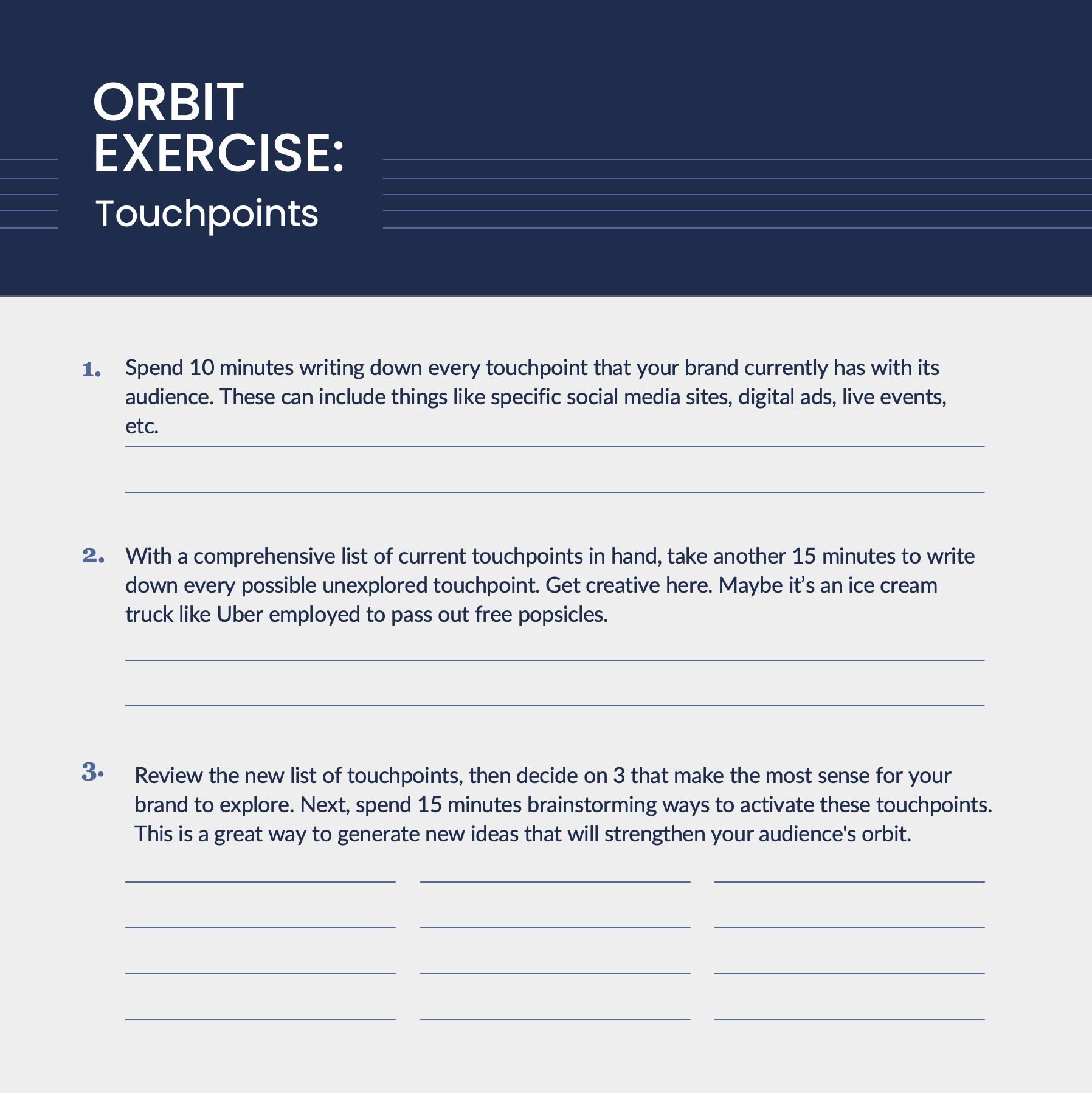 Let's get to work with an exercise.
Most brands have strategies for marketing, social media, and web presence. But, what are the specific touch points where your brand can stand out amongst the competition and convert new fans?
Spend 10 minutes writing down every touchpoint that your brand currently has with its audience. These can include things like specific social media sites, digital ads, live events, etc.
With a comprehensive list of current touch points in hand, take another 15 minutes to write down every possible unexplored touchpoint. Get creative here. Maybe it's an ice cream truck like Uber employed to pass out free popsicles.
Review the new list of touch points, then decide on 3 that make the most sense for your brand to explore. Next, spend 15 minutes brainstorming ways to activate these touch points. This is a great way to generate new ideas that will strengthen your audience's orbit.
Brand Orbit Recap
To recap: Your Brand Orbit is comprised of content and experiences that attract your customers and your audience. As authentic expressions of your core and atmosphere, this content should engage, provide value, and inspire your audience to share their interactions with your brand.
This is the final section of Elevation's Guide to Brand Building. That wraps up our spin around the Brand Planet. We hope you've enjoyed your journey so far, but we know you're just getting started. We look forward to building a bigger story. Together.
Don't miss the other sections of this guide:
Topics: brands